In-house Products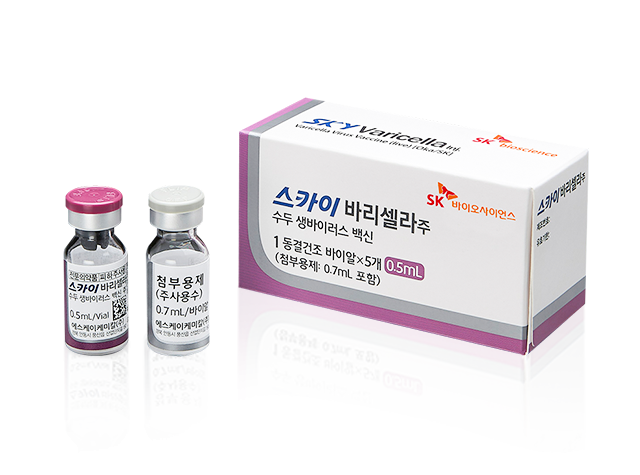 SKYVaricella®
(Live Attenuated Vaccine)
Classification

Prescription medicine

Therapeutics classification

Varicella vaccine

Ingredients/content

Attenuated varicella live virus
Description
Injection solution with lyophilized white crystalline pellet included in a clear and colorless vial, which results in a colorless or pale-yellow liquid when reconstituted with the attached solvent
Dosage Forms and Strengths
Attenuated varicella live virus
Indications and Usage
Prevention of varicella infection in children aged 12 months to 12 years
Dosage and Administration
This vaccine shall be injected subcutaneously at the lateral side of the upper arm as a one full dose (approximately 0.5 mL) and should not be injected intravascularly or intramuscularly.
[Preparation and Administration Method]

To dissolve this vaccine, add the entire amount of the attached solvent vial to the lyophilized vaccine vial using the syringe, and shake the vial until it is completely dissolved.
Draw the entire contents of this solution into the syringe and subcutaneously inject the entire amount (approximately 0.5 mL) at lateral side of the upper arm or anterolateral thigh (administration at lateral side of the upper arm is recommended).
To minimize loss of titer, the vaccine should be administered immediately after preparation, and any vaccine that has not been used within 30 minutes after preparation should be discarded.
How Supplied
1 lyophilized vial [attached solvent: 0.7 mL included] x 5, 10 ea
Storage
Keep refrigerated at 2-8°C in an airtight container away from light.