Message from the CEO
From prevention to Cure,

SK bioscience is here
to promote human health.

Jaeyong Ahn
President and Chief Executive Officer, SK bioscience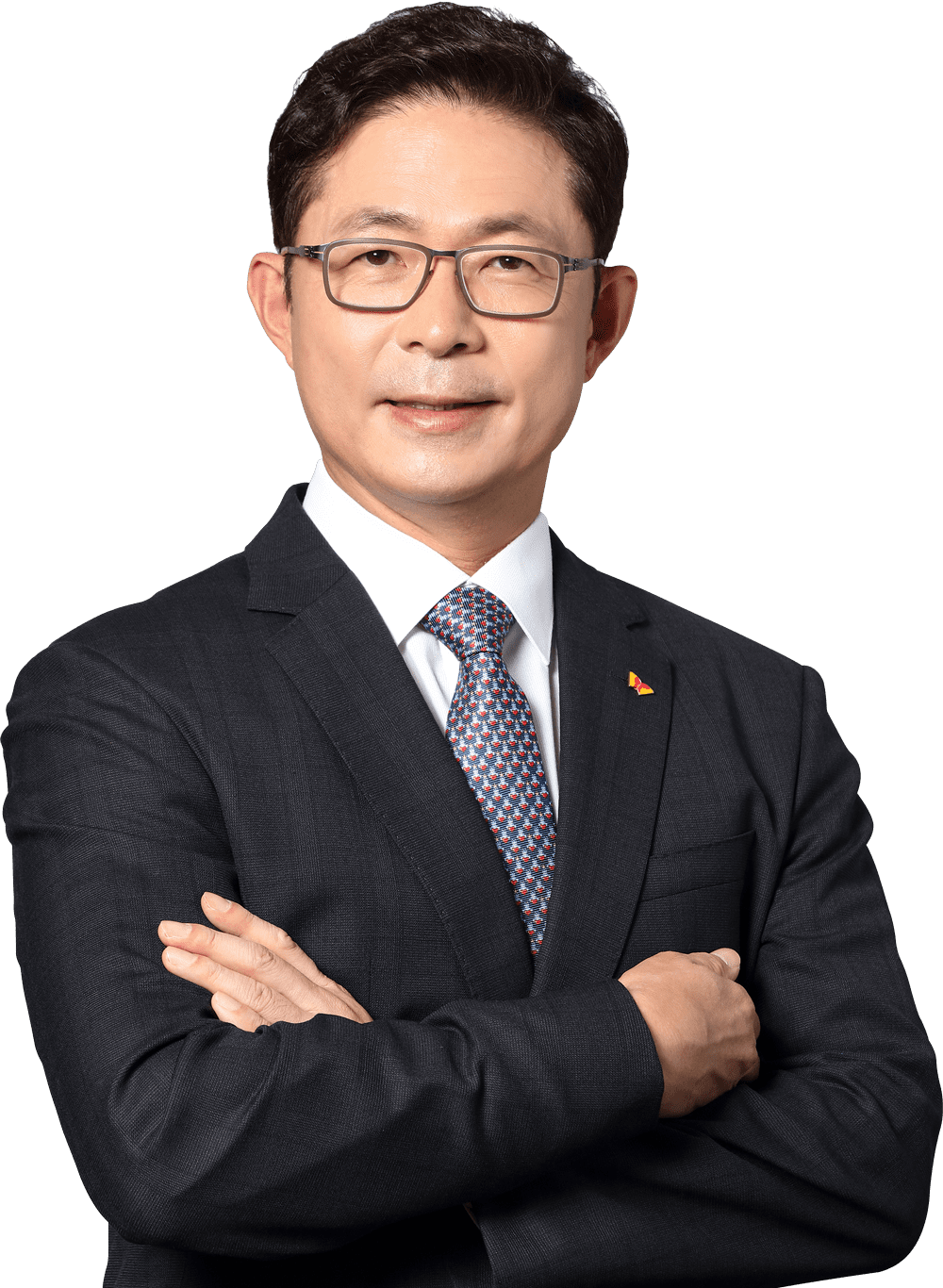 Greetings!
SK bioscience's commitment to 'Promoting Human Health' has been steadfast throughout the unprecedented global crisis of the COVID-19 pandemic. We have thus grown into a leading innovative partner in the global biopharmaceutical industry as the world prepares not only for the endemic phase of COVID, but also for the next pandemic.
Nearly 20 years of consistent improvement have provided the basis for remarkable growth in the present. We set the foundation for growth by establishing a vaccine R&D center in 2005 and building L HOUSE, our vaccine manufacturing plant in 2012. Based on our own capabilities, the company's process spans the entire value chain across research, manufacturing, licensing, and commercialization. During that journey, we demonstrated our advanced technology by successfully establishing a portfolio of self-developed vaccines, including: SKYCellflu®, the world's first cell culture-based quadrivalent influenza vaccine; SKYZoster® Inj., the world´s second Shingles vaccine; and SKYVaricella® Inj., chickenpox vaccine to receive the World Health Organization Prequalification certification.
Our vaccine R&D technologies and manufacturing systems are also recognized around the world. In 2014, we signed an agreement with Sanofi Pasteur, a global pharmaceutical company, to co-develop and commercialize a next-generation pneumococcal conjugate vaccine. We also launched joint vaccine development with international organizations such as the Bill & Melinda Gates Foundation, Program for Appropriate Technology in Health (PATH) and the International Vaccine Institute (IVI).
Our years of effort and experience have identified opportunities for a great leap in development when faced with the COVID-19 pandemic. We quickly began to pursue a two-track business strategy. One track included engaging with international companies as CDMO partners for their COVID-19 vaccines, and the other was to develop our own COVID-19 vaccine. In both cases, we fully leveraged our manufacturing facilities, R&D technology, and global network which have positioned us as a global vaccine hub.
Continuous upgrades to our manufacturing plant have led to obtaining the European Union's Good Manufacturing Practice (EU-GMP) certification for the first time as a vaccine manufacturing facility in South Korea. We have established collaborative relationships with global companies such as AstraZeneca, Novavax and GSK. Our partnerships with the Bill & Melinda Gates Foundation and CEPI (The Coalition for Epidemic Preparedness Innovations) expanded into a close network for the joint development of a range of vaccines.
Looking back, we put faith in our own possibilities based on accumulated experience and expertise to undertake various projects for public health. As a result, we were able to achieve both a successful IPO and historic jump in revenue in 2021 amid the pandemic. In addition, we successfully developed our own and South Korea's first COVID-19 vaccine - SKYCovione™ Multi Inj. - with robust global collaboration.
We now seek to take our next leap toward to the SKBS 3.0. We will continue to grow to achieve our mission to Promote Human Health under our new vision to become the Global Innovative Partner of Vaccine and Biotech.
We will enter the SKBS 3.0 with an innovative and systematic strategy. By (1) expanding our COVID-19 vaccine portfolio for the endemic phase, (2) diversifying our vaccine portfolio, including basic and premium vaccines, (3) establishing a glocalization model to build a regional manufacturing based, (4) entering the cell/gene therapy (CGT) area, and (5) developing a response strategy for the next pandemic, we will secure our competitive edge to become a Global Innovative Partner of Vaccine and Biotech.
To implement SKBS 3.0, we will first continue to secure advanced infrastructures by building the Global Research and Process Development (R&PD) Center in Songdo and expanding L HOUSE in Andong, as well as strengthening our portfolio by ensuring new platform technologies like mRNA. In response to the global vaccine inequity issue that arose during the pandemic, we will further continue to build a world-class business infrastructure through the implementation of ESG activities DT (Digital Transformation).
I am thoroughly grateful for all the attention and support for SK bioscience. The company will grow into an innovative partner in the global vaccine and biotech industry that is committed to a better tomorrow for all.
Jaeyong Ahn
President and Chief Executive Officer