In-house Products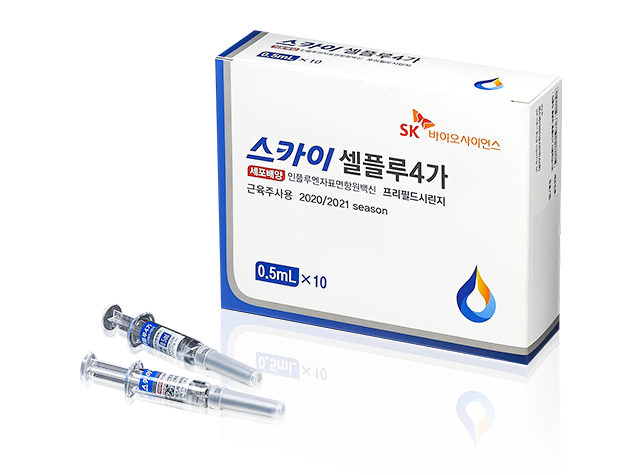 SKYCellflu® Quadrivalent Prefilled Syringe
(Cell Culture-Based Influenza Vaccine)
Classification

Prescription medicine

Therapeutics classification

Influenza vaccine

Ingredients/content

2 kinds of subtype A and 2 kinds of subtype B of purified inactivated influenza virus surface antigen
Description
Colorless and transparent prefilled syringe containing clear or slightly opalescent liquid solution
Dosage forms and strengths
2 kinds of subtype a and 2 kinds of subtype b of purified inactivated influenza virus surface antigen
Indications and usage
Prevention of influenza diseases caused by influenza A viruses and
influenza B viruses contained in this vaccine for adults and children 6 months of age and older.
Dosage and administration
1.

Administration schedule and dose

The following dose shall be injected intramuscularly, and the same dose shall be repeated once annually.

1)

Children 6 months of age and older and adults: inject 0.5 ml once.

2)

However, children under 9 years of age who have not been previously vaccinated against influenza shall be vaccinated with two doses at an interval of at least 4 weeks in the first year of vaccination.

2.

Mode of administration

Inject intramuscularly at brachial deltoid muscle using a needle attached to the prefilled syringe.
For infants aged 6 months to 3 years, inject intramuscularly at the anterolateral thigh (or brachial deltoid muscle if muscle mass is sufficient).
How supplied
0.5 ml/prefilled syringe x in-house package unit (1, 5, 10, 20)
Storage
Store at 2-8°c in an airtight container away from light without freezing.