Press releases
SK COVID-19 Vaccine "GBP510" CEPI "Wave2" (next-generation vaccine)ed as the first development support target
2020. 12. 10
- SK and CEPI (Coalition for Epidemic Preparedness Innovations) cooperate in developing universal·economical COVID-19 vaccine
- SK secured $10 million in R&D expenses for "GBP510" Vaccine will be supplied globally through COVAX facility
- SK submitted application for Investigational New Drug (IND) "GBP510" to the Ministry of Food and Drug Safety on the 9th Aims to enter clinical trials within this year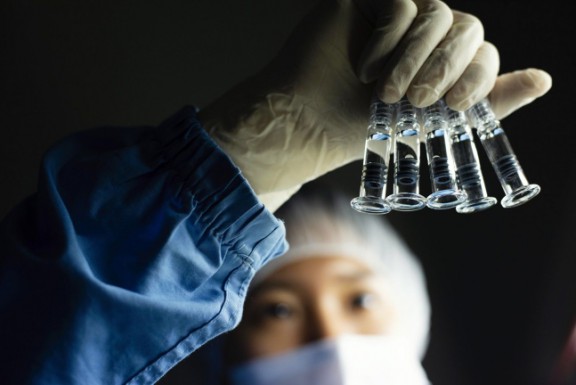 Photo description: An SK bioscience researcher is conducting R&D for vaccine development.
Through global cooperation, SK will develop a COVID-19 vaccine for worldwide distribution.
SK bioscience announced on the 9th that "GBP510," which is currently under development and the company's second COVID-19 vaccine, wased as the target of support for the "Wave2" (next-generation COVID-19 vaccine) development project funded by the Coalition for Epidemic Preparedness Innovations (CEPI), an international civil organization. This is the first "Wave2" candidateed by CEPI since it started searching for candidates last month.
"Wave2" is a project operated by CEPI that received a subsidy from the Bill & Melinda Gates Foundation (BMGF). Its purpose is to support a group of differentiated COVID-19 vaccine candidates.
The project specifically aims to discover additional vaccine candidates having universal and economic technology that can respond to global demands in terms of storage methods, administration frequency, productivity, and immune response.
Since "GBP510" wased as the target of "Wave2" development support, SK bioscience will receive R&D expenses of 10 million US dollars from CEPI to be used for phase 1/2 clinical trials of "GBP510."
In addition, when the development of "GBP510" is completed, it will be supplied worldwide through the COVAX facility, where more than 180 countries including Korea participate under the leadership of international organizations such as CEPI, Global Alliance for Vaccines and Immunization (GAVI), and World Health Organization (WHO).
"GBP510" is a COVID-19 vaccine candidate that SK bioscience launched in May with a grant from BMGF. The candidate was jointly developed with the University of Washington Antigen Design Research Institute and is characterized by being designed as an antigen with a structure that can maximize the immune effect.
SK's gene recombination technology and Washington University's "Self-Assembly Nanoparticle" design technology were applied to the "receptor-binding protein" (RBD), which is the key to inducing immunity by "GBP510."
SK bioscience has confirmed the protective effect of blocking the proliferation of neutralizing antibodies and viruses induced to a very high level through the efficacy testing of "GBP510" on rodents and primates, which has entered the final stage of testing.
SK bioscience submitted an application for the investigational new drug (IND) "GBP510" to the Ministry of Food and Drug Safety on the 9th, aiming to enter clinical trials within this year.
CEPI CEO Richard Hatchett said, "We are pleased to have entered into a partnership with SK bioscience to develop the COVID-19 vaccine candidate 'GBP510.' This is our first investment for a Wave2 vaccine, which would be a good option to overcome the COVID-19 through higher accessibility by developing a better form of COVID-19 vaccine."
SK bioscience CEO Jae-Yong Ahn said, "Using our differentiated vaccine platform, we are discovering many COVID-19 vaccine candidates which will lead to the development of the best vaccines," and added, "Our goal is to create a COVID-19 vaccine with proven safety and effectiveness."
To secure a COVID-19 vaccine, SK bioscience is developing a variety of vaccines with its own platform technology and at the same time adopting a two-track strategy to consign a vaccine developed globally.
SK bioscience received approval from the Ministry of Food and Drug Safety on the 23rd of last month for its investigational new drug "NBP2001," another candidate for COVID-19 vaccine developed in-house. "NBP2001" raised expectations for success by inducing a neutralizing antibody concentration that was 10 times higher than the serum recovered from previously conducted coronavirus efficacy testing on primates.
Also, SK bioscience signed a capacity reservation with CEPI in June. The companyed a part of the Andong Plant L-House to be utilized as a stock solution production facility for the production of COVID-19 vaccines for companies supported by CEPI. Through this, in August, it signed a contract development and manufacturing organization (CDMO) agreement with Novavax, a U.S. biotechnology company, for process development, production, and global supply of COVID-19 vaccine candidates. The production process is ongoing.
In July, SK bioscience signed a contract manufacturing organization (CMO) agreement to produce the stock solution and final product of a COVID-19 vaccine candidate developed by AstraZeneca and Oxford University in the UK which is in Phase 3 clinical trials.